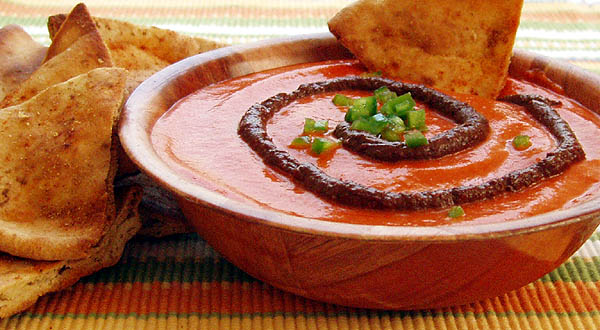 INT. CARYN'S APARTMENT–KITCHEN–LATE AFTERNOON
The sink is overflowing with dirty dishes and bowls. Bright orange spots are spattered around the stove. The trash can is long overdue for a changing.
Caryn stands over a colorful bowl on the table, digital camera poised at her eye. There is a quick knock at the door, but it opens nearly at the same time and Matt waltzes in.
MATT
Smells like peppers in here!
CARYN
Roasted red peppers.
Matt leans over the table to look at the bowl.
MATT
What's that?
CARYN
Dip. Didn't know you were coming over.
Matt picks a pita chip off the counter and starts to munch on it.
MATT
Wasting some time before my date.
Caryn repositions the food and snaps another picture.
CARYN
It'd kill you to show up on time?
Matt grabs another chip.
MATT
Who's this for?
CARYN
No one. Just an experiment.
MATT
Perfect. Then I'm your guinea pig.
He grabs the chip that sticks out of the bowl and scoops a generous portion of the silky dip before popping it in his mouth.
CARYN
Good thing I'm done taking pictures.
MATT
Wow. Smoky.
He walks over to the fridge and grabs a half-full bottle of pomegranate juice.
MATT (CONT'D)
And hot!
CARYN
I know. I might have added more jalapenos than it called for.
MATT
I think it chapped my lips.
This flavorful dip was designed as an entry for the Paper Chef #4 using the following ingredients: eggplant, stale bread, chocolate and pomegranate. The use of three different kinds of peppers somehow brought those flavors together.
Roasted Red Pepper and Eggplant Dip
Chipotle Mole Garnish
1/2 cup sundried tomatoes
1 cup boiling water
2 Tablespoons pumpkin seeds (pepitas)
2 Tablespoons blanched almonds
2 Tablespoons sesame seeds
1/2 of a 7-oz. can of chipotle peppers in adobo sauce
1/2 cup of pomegranate juice
1 Tablespoon olive oil
2 cloves of garlic
2 oz. bittersweet chocolate
1. Rehydrate tomatoes in boiling water. Drain and reserve liquid.
2. Toast pepitas, almonds and sesame seeds in a dry skillet until lightly browned. Cool.
3. Grind seeds and almonds in food processor until fine. Add tomatoes, chipotles and pomegranate juice. Puree until smooth.
4. Heat oil in a skillet over medium heat. Add garlic and saute until soft. Add the pureed mixture and saute until thickened (about 15-20 minutes).
5. Melt the chocolate into the mixture. Thin sauce with reserved tomato liquid until desired consistency (I used 1/2 cup). Simmer for a minute to blend flavors.
Makes about two cups. Refrigerate until ready to use.
To use as a sauce for meats or vegetables, use only one or two of the chipotles and thin the finished sauce with chicken broth. Vary the chocolate to taste.
Pita Chips
5 loaves of stale pita
olive oil
cumin
paprika
1. Preheat oven to 350 degrees.
2. Brush the pita with olive oil and cut into halves and then thirds to form wedges.
3. Dust with cumin and paprika.
4. Bake on a cookie sheet until golden and crispy (about 20 minutes).