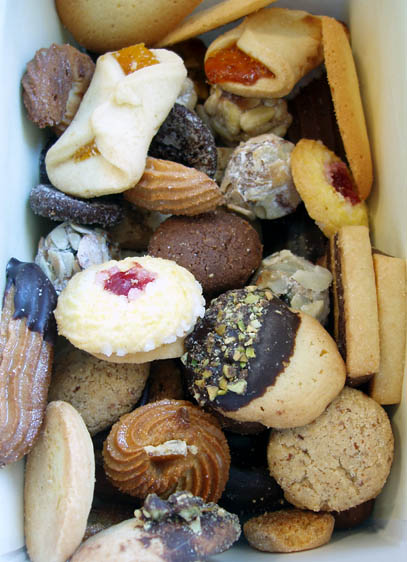 INT. CARYN'S APARTMENT–BATHROOM–DAY
Water from the faucet splashes into the soap bubbles, washing them away. Caryn, dressed in cleaning day sweats, is bent over the claw-foot tub, scrubbing the sides with vengeance.
From the other room, there is a loud knock. Caryn sits up and listens, unsure if it is the stereo that of course is blaring loudly too. She shakes it off and resumes her work.
INT. CARYN'S APARTMENT–LIVING ROOM–MOMENTS LATER
Caryn dries her hands as she surveys the freshly cleaned apartment. She stops and looks at the door, still wondering about the knock. When she opens the door, she discovers a small white box wrapped neatly in brown and white ribbon waiting at her feet.
The note inside the box reads: "Congratulations on the new job! See you tomorrow. Love, Winnie and Vic."
She plops down on the couch and Punky immediately appears out of nowhere to check out the sweet scents. Caryn focuses her attention on a tantalizing confection smothered in chocolate and pistachios. The perfect selection to help forget about the aforementioned new job…
Susina Bakery
7122 Beverly Blvd.
Los Angeles, CA 90036
(323) 934-7900
Hours:
Mon-Thu 7am-7pm
Fri 7am-10pm
Sat 8am-10pm
Sun 8am-9pm
A marvelous European patisserie, owned by former Spago pastry chef Anna Delorefice and partner Jenna Turner. Apparently they deliver.