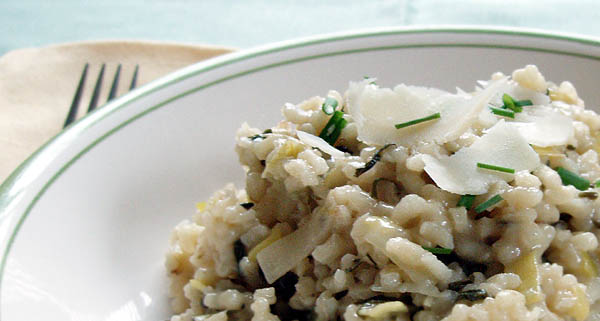 EXT. MR. R'S MANSION–SUNDECK–DAY
The massive sundeck stretches the full length of the house and opens out to the expansive view of the buzzing city. Just steps below the deck, a glorious pool shimmers in the California sun.
Mr. R. and Miss A. relax at a large, round table that is dressed in the requisite white linen and crystal. Lauren reads a script in a sunchair next to them.
Miss A. stretches her bare, pedicured feet into the sun.
MISS A.
Is it finally Spring?
MR. R.
I guess any day here feels like Spring when you're from Manhattan.
MISS A.
I may never go back.
MR. R. smiles at the thought as Caryn enters with plates piled high with hot, green-speckled risotto.
MISS A.
Lunch!
Lauren comes over to the table as Caryn pours sparkling water into the glasses. Miss A. wastes no time before digging her fork into the steaming mound.
LAUREN
What's in this?
CARYN
Oh, it's sort of a light risotto. Arugala, leeks, parmesan.
MISS A.
Mmmmm. Perfect dish for a beautiful day!
Lauren resumes reading her script without touching her lunch. Mr. R. eats in silence. Caryn takes the opportunity to sneak away.
MISS A.
You're right. Your chef is really good.
Lauren looks up from her script to Mr. R. who continues to eat.
LAUREN
She's alright. Not the best you've ever had.
Mr. R. dismisses Lauren's comment with a laugh. The table falls silent as the trio drifts off into their thoughts of the afternoon.
Around the corner, Caryn sits on the back steps, disappointed with the previous conversation from the deck. She stretches out her home-pedicured feet into the sun and tries to disappear into her own plate of risotto.
Spring Green Risotto
3 Tablespoons olive oil
2 large leeks, cleaned and chopped
2 cloves garlic, minced
1-1/2 cups Arborio rice
5 cups chicken stock
1/2 cup dry white wine
3 cups chopped baby arugala
1/4 cup snipped fresh chives
2 Tablespoons fresh thyme leaves
3/4 cup grated Parmesan cheese
salt and pepper, to taste
1. Bring stock to a gentle simmer.
2. Heat oil over medium-high heat in heavy-bottomed pan. Add leeks and garlic. Saute until soft, about 5 minutes. Add rice and stir until rice is nearly translucent, about 3 minutes.
3. Add the wine and stir until it is completely absorbed.
4. Slowly add 1 cup of the stock to the rice, stirring constantly.
5. When the stock has been nearly absorbed, add the arugala, chives and thyme.
6. Continue to add the stock a ladleful at a time, stirring the rice constantly, until the rice is just tender and looks creamy, about 20-25 minutes.
7. Stir in the parmesan and salt and pepper. Serve at once.
3 lunch-sized portions, and a little leftover.