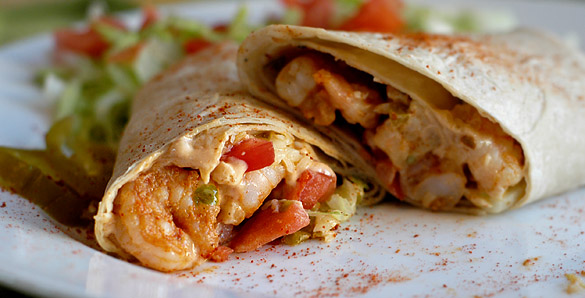 INT. HOLLYWOOD MANSION–KITCHEN–DAY
Sizzling shrimp are the focus as Caryn prepares lunch. She tosses them around, determining that they are done, and then carries the skillet to the counter where the rest of the ingredients wait patiently.
Flora walks in with arms full of dirty laundry.
CARYN
Hey, Flora.
FLORA
It's good to have you back again, Caryn. This place is so lonely when he's on a movie.
Caryn smiles as she carefully drops the shrimp on top of the lettuce, cheese, tomato and jalapenos that sit in the center of a large flour wrap. Flora shoves the laundry into the chute and watches it tumble down to the basement.
CARYN
Will he be coming to the table for lunch today?
FLORA
No, Caryn, I'll bring it to him.
Caryn stops, a bowl of pink sauce in her hand.
CARYN
Are you kidding me? I haven't seen him in a week. Is he going to hide away in his room forever?
Flora shrugs apologetically. Caryn sighs with impatience. She finishes the wrap and slices it neatly in two before handing the plate to Flora.
CARYN (CONT'D)
In that case, Flora, tell him I'm leaving early today. I'll put his dinner in the fridge.
Flora disappears through the swinging door. Caryn looks at the rest of the shrimp in the skillet. She resignedly shakes her head before taking out another wrap for herself.
Spicy Shrimp Wraps
This is a fast, but tasty, recipe for a quick meal. Pretty much all the portions of ingredients are negotiable, so adjust according to taste.
1 lb. medium shrimp, peeled and deveined
1/2 tsp. salt
1/2 tsp. pepper
1 TB. ground cumin
2 tsp. paprika
1 tsp. cayenne
2 TB. olive oil
1 lime
1 cup shredded iceberg lettuce
1/2 cup tomato, diced
4 oz. hot jalapeno jack cheese, shredded
1/2 cup pickled jalapeno, chopped
4 large flour wraps (or flour tortillas)
Sauce:
1/4 cup mayonnaise
2 TB. sour cream
2 chipotle peppers in adobo sauce, finely chopped
2 tsp. adobo sauce
1. To make sauce, combine ingredients in small bowl until smooth.
2. Combine salt, pepper, cumin, paprika and cayenne. Add shrimp and toss to coat.
3. Heat oil in large skillet over high heat. Add shrimp and saute until cooked through, about two minutes. Remove from heat and squeeze lime over shrimp.
4. Evenly distribute lettuce, tomato, cheese and jalapenos over the bottom third portion of each of the four wraps. Divide shrimp over the other ingredients on the wraps. Drizzle with desired amount of sauce. For each wrap, fold in sides and roll up from the bottom. Slice in two and serve.
Yield: 4 wraps.