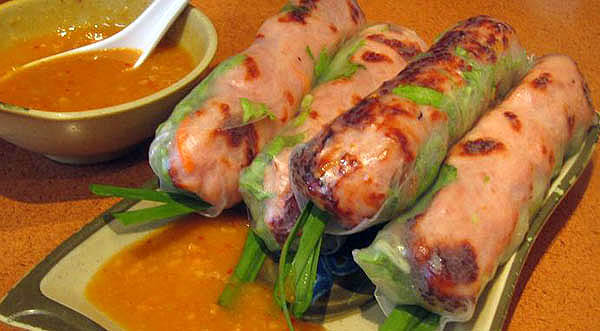 EXT. LOS ANGELES FREEWAY–DAY
A bright red, completely restored 1975 Volkswagen Super Beetle motors down the road with four occupants smushed inside. MATT, smartly dressed with unassuming good looks, sits with Caryn in the back. Vic drives with Winnie by his side.
CARYN
How much farther? I'm starrrrrrving.
WINNIE
Almost there. Ten minutes.
Caryn groans and shifts in her seat, accidentally kicking Matt's shin.
MATT
Maybe we should've taken my car.
VIC
This baby will take your little Audi any day!
INT. CROWDED VIETNAMESE RESTAURANT–ORANGE COUNTY, CA–DAY
Matt, Winnie, Vic and Caryn are now crammed around a small table loaded with Vietnamese fare.
WINNIE
Did we order too much?
CARYN
Maybe we should order more.
VIC
Pass the fish sauce.
The table is quiet for a moment as the four friends are busy wrapping cha gio, the Vietnamese version of spring rolls, in the traditional greenery, dipping in fish sauce and stuffing into their mouths.
MATT
So, he's out of town? Does that mean you don't have to go to work?
CARYN
No, I still gotta go. I'm restocking the kitchen and planning menus.
VIC
Anyone want the last one?
Everyone shakes their heads as Vic grabs the spring roll. The others pile their plates with banh cuon, smooth rice batter crepes stuffed with meat and vegetables.
CARYN
My favorite! Can you imagine his face if I served banh cuon to him?
Winnie swallows a laugh with the bite in her mouth.
WINNIE
When does he get back?
CARYN
Don't know. I didn't even know he was leaving.
Winnie enviously watches Vic grab the last of the chao tom, ground, spiced shrimp that is grilled on sugar cane and then wrapped with greens in rice paper. He dips it in the warm, spicy-sweet peanut sauce.
WINNIE
Aren't you going to have any banh cuon?
VIC
It doesn't look as good as when you and Caryn make it.
Caryn grins. Matt pushes his plate away and leans back to let his food digest, stretching his long legs under the table.
MATT
Good choice. I like this place.
WINNIE
I like it too.
CARYN
Pass the fish sauce.
Brodard
9892 Westminster Ave.
Suite R
Garden Grove, CA 92844
714-530-1744 ph.
Hours: 8AM-9PM (closed Thursday)
Inside Fortune Mall, use the rear entrance. Worth the wait for a table.