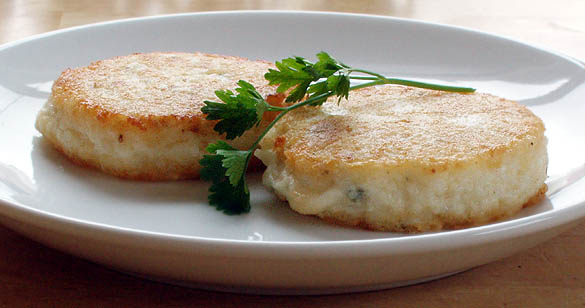 INT. MR.R.'S MANSION–KITCHEN–EVENING
Fresh steaks marinate on the counter and a large skillet is coated with oil. But the kitchen is devoid of its cook.
INT. MR. R.'S MANSION–HALLWAY–SAME
Caryn meanders through the passageway, looking at the bizarre art on the walls. She stops at the bottom of a flight of stairs. She looks over her shoulder, but there is no one around. Caryn creeps up the stairs and peers around the corner.
INT. UPSTAIRS
Another hallway lined with doors. Haphazardly she chooses one.
INT. BEDROOM
Caryn finds herself in an elaborately decorated suite with a window that seems to hover above all of Los Angeles. By the teeny-sized and elegant clothing strewn about the room, it is clear that this is Miss A.'s room.
Caryn holds one of the dresses up to her body. She grunts at how much it doesn't cover and tosses it aside. Backing up, she nearly trips over a pair of glittering silver stilettos.
To her credit, there is a brief moment of hesitation before Caryn kicks off her own boring shoes and slips into the Blahniks. She tiptoes across the room to a full-length mirror. She pulls up her pant leg to consider the new calf line.
MR. R.
Caryn.
Caryn cringes, afraid to turn around. Mr. R. stands behind her, his raincoat dripping on the floor.
CARYN
Yes….sir.
MR. R.
Dinner?
Her face crumples like a ball of aluminum foil.
CARYN
Yes, sir. Fifteen minutes.
INT. DINING ROOM–LATER
Mr. R. has changed into his jeans and t-shirt and he sits alone, reading. Caryn serves him the grilled steak, accompanied by a still sizzling grit cake that is starting to seep gorgonzola from the side. Mr. R. slices it in two with his fork and takes a bite as Caryn tries to exit.
MR. R.
Caryn.
She stops, head hung low.
MR. R. (CONT'D)
I don't think there's any reason to mention–
She musters a look over her shoulder at him.
MR. R. (CONT'D)
–your exploits…to A., do you?
CARYN
Um, no. Sir.
He resumes eating, but as Caryn escapes, a sly smile cracks on his lips.
Gorgonzola Grit Cakes
3 cups water
1 cup water ground grits (not instant!)
1 tsp. salt
3 oz. gorgonzola, crumbled
1 egg, beaten
flour for dredging
2-3 TB. vegetable oil
1. Bring water to a boil. Add salt and grits and lower heat. Cook until thick, stirring constantly, about 15 minutes. Remove from heat and stir in egg and gorgonzola, stirring until cheese is melted and well combined.
2. Pour grits into 8″ cake pan (round is better). Cool in pan and then refrigerate uncovered until completely set, at least an hour after cool.
3. With a 2-1/2″ round cutter, carefully cut grits into 6 rounds and remove from pan. Dredge rounds in flour.
4. Heat oil in large skillet until hot. Pan-fry grit cakes until golden, about 2 minutes each side. Serve immediately.
**Make sure that the oil is hot enough before frying or the grits will begin to fall apart before browning.
Makes 6 grit cakes.