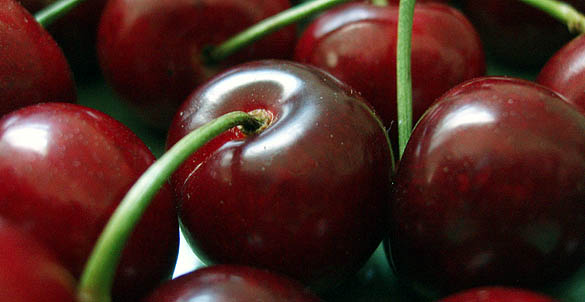 EXT. FARMER'S MARKET–DAY
Caryn strolls the aisles in her wide-brimmed sunhat. Her shoulder bag sags with the weight of the vegetables and fruits.
One table has a giant sign that reads "First of the Season." Cherries of all shades of red are piled around the sign. Caryn stops and samples one.
CARYN
A little too ripe, huh?
The other PATRONS pay no attention to her as they shove handfuls of cherries in their bags.
ANOTHER TABLE
Caryn squeezes a cherry to test its firmness and then bites into it.
CARYN
Mm. Perfect.
The CHERRY MAN smiles at her review. She starts to fill a bag.
CHERRY MAN
My only week of cherries this year.
Caryn stops abruptly.
CARYN
What?!
CHERRY MAN
Yeah, all the rain. My crop is already rotting.
CARYN
No!
The cherry man nods apologetically before helping another CUSTOMER who seems to be scrutinizing each cherry before he bags it. Caryn resumes filling her bag, saddened by the news.
INT. MR. R.'S KITCHEN–LATER
Caryn shells some fresh English peas as Miss A. bounds in.
MISS A.
Oo! Cherries!
She grabs a heaping handful of cherries from the bowl that Caryn had placed on the counter.
MISS A. (CONT'D)
I just love cherries.
Caryn tries to ignore her and continues her work. The cherries in Miss A.'s hand are gone in no time and she reaches for another handful.
MISS A. (CONT'D)
I've gained three whole pounds from eating here. I guess it's a good thing I'm heading to the set tomorrow.
This catches Caryn's attention.
CARYN
They're starting the shoot?
MISS A.
Finally! One of my scenes is first, of course.
Miss A. pops yet another cherry in her mouth.
MISS A. (CONT'D)
I have to finish packing.
She grabs another handful of cherries before leaving. The once-filled bowl is reduced by half, but Caryn can't help feeling invigorated by Miss A.'s news.
Yes, it's true. Many cherry crops in California have been devastated by the late rains. Get what you can at LA Farmers Markets now!