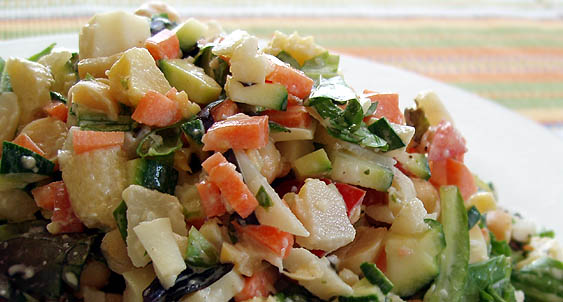 INT. MR. R.'S MANSION–KITCHEN–EARLY AFTERNOON
Caryn digs deep into the fridge and pulls out several tupperware containers from the back. She examines the contents skeptically. Lauren enters and tosses some papers on the counter.
LAUREN
Here. I need you to fill these out so we can add you to the movie's payroll.
Caryn grabs a few more items from the fridge. She closes the door with her foot.
CARYN
Is production starting soon?
LAUREN
Well, yes. But he won't be needed for a couple more weeks.
Caryn unloads her arms by a cutting board.
CARYN
So I won't be needed for a couple more weeks either?
Lauren licks her teeth under her lips as she eyes Caryn.
LAUREN
Right. Something like that.
Caryn empties the contents of the tupperware on the cutting board. She begins chopping a pile of vegetables with her chef's knife.
LAUREN (CONT'D)
You know, there's not much to do on a movie set. You'll probably get bored after the first week.
Caryn shrugs her shoulders as her knife settles into a steady rhythm.
LAUREN (CONT'D)
I feel badly that he's dragging you into this. Someone with your talents probably has much bigger aspirations than cooking from the kitchen of a trailer.
CARYN
I'm sure I'll be okay.
Caryn starts hacking away at a carrot. Lauren looks down the bridge of her nose at the bits of vegetables.
LAUREN
Suit yourself. But you better hurry up with that. He's been asking for his lunch for half an hour.
The sound of the knife stops abruptly as Lauren walks out. Caryn pops a piece of carrot in her mouth and resumes chopping.
CARYN
Always nice chatting with you.
Chopped Salad
Vary this salad by including or substituting any number of ingredients: corn, blanched green beans, sweet peas, grilled chicken, avocado, fresh basil, fresh dill, green onion, fresh spinach, iceberg lettuce, red or yellow peppers. It's also nice with a seasoned vinaigrette.
2 medium zucchini, finely chopped
2 medium carrots, finely chopped
2 roma tomatoes, seeded and finely chopped
1/2 cup hearts of palm, finely chopped
1/2 cup garbanzo beans, finely chopped
1/2 cup water chestnuts, finely chopped
1/2 cup baby corn, finely chopped
4 cups baby greens, finely chopped
Salt and pepper, to taste
Toss all ingredients in large bowl with enough dressing to lightly coat vegetables.
Serves 2 large salads or 4 side salads.
Buttermilk Dressing
1/4 cup mayonnaise
2 TB. sour cream
1-1/2 tsp. onion powder
1-1/2 tsp. garlic salt
1/4 tsp. black pepper
1/2 tsp. parsley flakes
1/4 cup buttermilk
Stir together mayonnaise, sour cream and spices until smooth. Stir in buttermilk until desired consistency is reached.