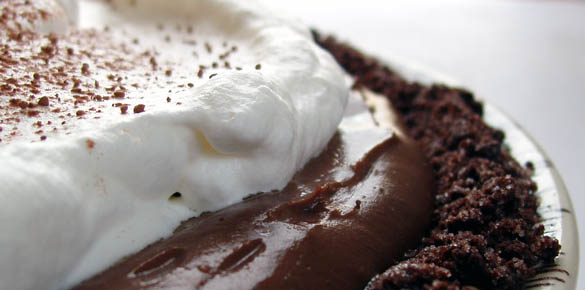 INT. MR. R.'S MANSION–KITCHEN–LATE AFTERNOON
Caryn stirs hunks of dark chocolate in the bowl of a double boiler. A rich, creamy custard waits patiently for its lavish counterpart to melt. A prepared crust anticipates the wedding from the counter.
Miss A.'s strappy, high heels tip-tap on the tile as she enters in a silky dress held on her body only by two capellini straps. Her eyes glance toward the pie crust as she takes a compact out of her purse. She dabs her perfect skin with the light powder.
MISS A.
We're going out after the premiere. I guess no one told you.
Caryn is mesmerized by the melting chocolate.
CARYN
That's okay. This won't be done for hours–
Mr. R. strolls in wearing a purposely faded t-shirt and dark denim jeans. Miss A. stiffens at his appearance.
MISS A.
What are you wearing? We're going to be late.
Mr. R. watches Caryn fold the smooth chocolate into the custard.
MR. R.
I really don't feel very social today. I'm not going.
MISS A
What? We have reservations at Ago's!. You love their lobster risotto.
Mr. R.
I especially don't feel like the scene at Ago's.
Miss A. snaps the compact shut.
MISS A.
Don't be ridiculous. The car is waiting.
Mr. R. leans against the counter, not about to budge.
MISS A. (CONT'D)
Fine. Do what you want.
Miss A. shoves the compact in her purse and storms out. Mr. R. chuckles to himself.
MR. R.
Nothing special for dinner, Caryn. Something light.
Caryn nods and smiles to herself. Mr. R. heads out the door only to turn back around.
MR. R. (CONT'D)
Oh, and a piece of that pie.
Chocolate Cream Pie
This dressed-up pie certainly won't invoke memories of the one you had at a roadside diner during the family vacation to Florida. Use Valrhona's Manjari Chocolate (64%) and you could serve it to the most discerning of critics, only to be met with overwhelming success.