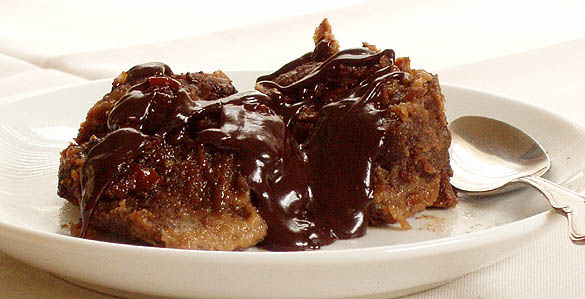 EXT. CARYN'S APARTMENT–NIGHT
Caryn's Honda screeches to a halt with the same obnoxious sound from before. The door haphazardly swings open and Caryn steps out, right into a large muddy puddle. She groans.
She gathers her things from the car and walks up the steps to the porch where she looks in the mailbox.
INT. CARYN'S APARTMENT
Punky screams for his dinner. Caryn drops her bag and coat on the couch and looks through the mail. Bills, bills, bills.
She walks to the kitchen where she dumps food in Punky's dish and heads over to the fridge. Bare, except for the staples: eggs, milk, diet coke. Deep sigh.
She opens a cabinet and pulls out a wrinkled, paper Zingerman's bread bag. Out of it comes half of a dark loaf stuffed with chunks of rich chocolate and dotted with crimson Michigan cherries. Punky abandons his dinner to explore the scent of chocolate that has drifted his way. Caryn smiles.
She squeezes the loaf slightly and the smile morphs into a scowl. She taps the loaf on the counter. Hard as a rock.
Caryn stares at the loaf, defeated. She shakes her head and looks at the cat.
CARYN
Well, Punk, when life gives you lemons…
Chocolate Cherry Bread Pudding
1/2 loaf Zingerman's chocolate cherry bread, stale, cut into cubes
4 TBS. butter, melted
1/2 cup half and half
1/2 cup sugar
3 eggs
1 tsp. vanilla
Scharffen Berger chocolate sauce (or the closest thing you can find)
1. Preheat oven to 350 degrees. Butter four 1-cup ramkeins.
2. Toss bread cubes with melted butter, set aside.
3. Whisk eggs with sugar. Add half and half and vanilla. Whisk until combined. Add to bread cubes and toss to coat. Set aside for 30 minutes or cover and refrigerate up to 1 day.
4. Press bread mixture into ramekins and pour remaining sauce over the top.
5. Bake until puffed and bubbly, 20-25 minutes.
6. Cool slightly and invert on plates. Drizzle (or dollop) with hot chocolate sauce.
This is an easy bread pudding recipe. It works well with a dense, sweet loaf like Zingerman's Chocolate Cherry Bread, but any stale, sweet bread would probably work.
UPDATE: This entry is part of a contest! Check out the other entries in Comfort Me: A Cookbook Contest over at Who Wants Seconds?.