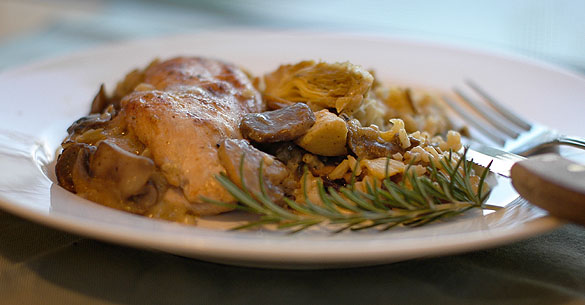 INT. MR. R.'S KITCHEN–AFTERNOON
The cast iron skillet is back in use as chicken breasts sizzle and pop to a golden brown in olive oil. Caryn is half engulfed in a low cabinet, rooting for something that doesn't seem to be there.
With all her CLANGING, she doesn't see Hank enter, dressed in swim trunks. He swings a towel over his bare shoulder.
HANK
Looking for something?
Caryn bolts up to a standing position, her head colliding violently with an open cabinet door.
HANK (CONT'D)
Oooo. Are you okay?
He reaches out to her but she brushes off the pain with a smile, the model of professionalism.
CARYN
Yeah. What can I do for you?
She opens a can of artichoke hearts. Hank looks in the fridge.
HANK
I'm just getting a soda.
CARYN
Isn't it a little chilly for sun bathing?
She pulls her wool cardigan closed as she drains the artichokes in the sink.
CARYN (CONT'D)
You boys seemed to get plenty of sun while sailing around the world for a month.
Hank examines the tan line around his waist.
HANK
Nah. I could use a little more.
Caryn focuses on a pot of wild rice simmering on the stove. Hank sneaks a peak.
HANK (CONT'D)
I'm starved. Can I taste?
He tries to take the spoon from her, but she playfully smacks his hand away.
CARYN
I'm trying to work here.
Hank laughs and rests against the counter to watch her stir the rice.
HANK
Twenty Hollywood types cruising around on that boat and not one of them could cook. We sure missed you.
CARYN
Well, I can't say I missed you poking around the kitchen all the time.
She returns to her search in the cabinet. Hank steals a sliced mushroom from a bowl and heads to the door.
HANK
Alright, kiddo. Call me when lunch is ready.
Caryn watches him leave. As the door swings closed, she can't help snickering to herself…just a little.
Chicken & Artichoke Casserole
This is an old recipe from Cooking Light that I've adapted over the years. Satisfying on a chilly day.
1 box of wild rice (6 oz.), preferrably seasoned like the Near East brand products
salt, pepper, paprika
4 medium-sized chicken breasts
1 TB. olive oil
1 TB. butter
1 14-oz. can artichoke hearts, drained and quartered
16 oz. fresh mushrooms, sliced
1/4 cup flour
1 TB. fresh rosemary, chopped
2-1/4 cups chicken broth
1/2 cup dry sherry
1. Preheat oven to 375 degrees. Prepare rice according to package directions. Spoon into 13×9-inch baking pan.
2. Dusk chicken breasts with salt, pepper and paprika. Heat butter and olive oil in large non-stick skillet over medium-high heat until butter is melted. Add chicken and cook unti lightly browned, about 3 minutes each side. Remove from skillet.
3. Add mushrooms to skillet and saute until mushrooms release their moisture and moisture mostly evaporates, about 5 minutes. Whisk together flour, broth and sherry until combined. Add liquid and rosemary to mushrooms in skillet. Stirring constantly, cook until sauce is thickened, about 3 minutes.
4. Arrange chicken over rice and top with artichokes. Spoon sauce and mushrooms over the chicken and artichokes. Cover with aluminum foil and bake until thoroughly heated, about 50 minutes. Let stand for 5 minutes before serving.
Serves 4.