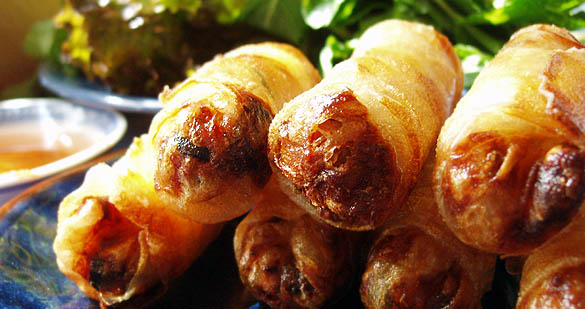 INT. CHA GIO RESTAURANT–DAY–FLASHBACK
A much-younger Winnie rushes into the small and colorful restaurant, passing bamboo plants and walls lined with local art. She heads to the back where she deposits her backpack and kisses her petite and kind-faced mother, MRS. LE. Winnie straps on her red apron.
Mrs. Le hands her a plate of golden cha gio and says something in Vietnamese to her daughter. Winnie stacks the plate on her arm with another plate of vegetables and herbs and heads out into the restaurant again.
She sets the plates down on a table where a younger, then-unknown TY PENNINGTON sits alone. He smiles like a gentleman.
WINNIE
Anything else?
TY
Not yet, thanks.
Winnie returns the smile.
WINNIE
Good to see you again.
She heads off into the back of the restaurant to help her mother, leaving Ty alone to enjoy Mrs. Le's famous cha gio.
INT. WINNIE'S APARTMENT–KITCHEN–PRESENT DAY
Winnie dips rice paper in a bowl of hot water and lays it on a towel. Caryn spoons filling on a sheet and precariously rolls it up. Vic stands over the stove, frying the fresh cha gio.
CARYN
Do you think if I wrote him a fan letter and mentioned that I can make cha gio, he'd respond?
WINNIE
Isn't that why I'm teaching you?
Winnie watches Caryn over her shoulder.
WINNIE (CONT'D)
Roll them tight.
CARYN
I am. Can we try one now?
Vic strains the rolls and puts them in a colander lined with paper towels.
VIC
Yeah, let's try em!
Winnie adds some red leaf lettuce to the garnish plate and hands it over to Vic. They each take a hot spring roll and wrap it in the lettuce with some fresh herbs.
WINNIE
Here.
She holds the little plate of dipping sauce out. Caryn and Vic dip their rolls in the sauce and devour the cha gio. Vic adds more rolls to the oil and they all reach for another cooked one to eat.
WINNIE (CONT'D)
My mom will be so proud of you!
Caryn accepts the praise like a little child. The clock behind Winnie catches her eye.
CARYN
Oh! It's eight o'clock! Ty's on!
Cha Gio Restaurant has recently merged with Wild Curry Thai, but Mrs. Le still cooks the traditional Vietnamese fare that has made the restaurant an Atlanta favorite for nearly thirty years.
Cha Gio Restaurant
132 10th Street
Atlanta, GA 30309
(404) 885-9387 ph.
Mrs. Le's Cha Gio (Spring Rolls)
Filling:
1/2 cup finely chopped fresh chicken
1/2 cup rehydrated dried black fungus
1/2 cup cooked bean threads
1/2 cup chopped white onion
1/2 cup fresh crab meat
1/2 cup raw chopped shrimp meat
1/2 cup shredded carrots
1/2 cup bean sprouts
1 egg
fish sauce, to taste
1/4 teaspoon white pepper
8 round sheets of rice paper (or more, as needed)
vegetable oil for frying
Fresh vegetable and herb platter to eat with spring rolls (red leaf lettuce, mint, cilantro, basil.)
Nwoc Cham (Dipping Sauce):
1/4 cup shredded carrots
Tuong Ot Toi (crushed red pepper sauce), to taste
1 TB. lemon juice
1 tsp. granulated sugar
1/2 cup boiling water
fish sauce, to taste
For filling: In a bowl, mix together the chicken, black fungus, bean threads, white onion, green onion, crab meat, shrimp, carrots, bean sprouts, egg, fish sauce and white pepper. Set aside.
Dip each sheet of rice paper in warm water and place on a clean towel, just as you are ready to fill and roll. Put sheet on a flat surface. Put about 1/4 cup filling across bottom 1/3 of rice sheet. Fold 1/3 of sheet on left side over mixture and repeat with the right side. Starting at the bottom, carefully roll up as tightly as possible. Place spring rolls on platter.
When all spring rolls are completed, heat 1 to 2 inches of vegetable oil in a wok or deep skillet to 350 degrees. Place spring rolls in the hot oil folded side down to keep them from breaking. Cook 2 to 4 minutes per side or until they are a golden brown and ends are brown indicating that the ingredients are done. Drain and serve immediately.
For dipping sauce: Put carrots, crushed red pepper sauce, lemon juice and sugar in a small serving bowl. Pour the boiling water over the ingredients. Add the fish sauce to taste. Stir to mix. Serve.
Makes about 8 spring rolls.