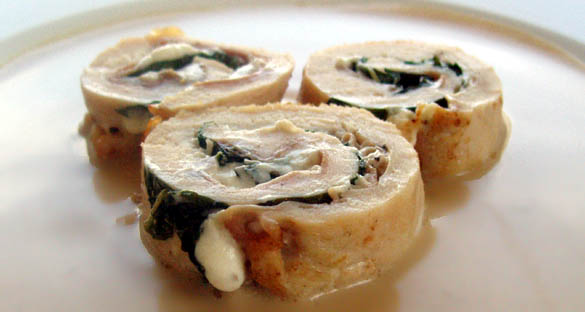 INT. MR. R'S MANSION–KITCHEN–NIGHT
Caryn carefully cuts through a golden chicken breast rolled with basil and goat cheese peeking out the seam. She neatly plates each spiral slice atop a silky, light-brown cream sauce and steps back to examine the dish.
INT. DINING ROOM–CONTINUOUS
Mr. R., Lauren and Miss A. are assembled again around the long table dressed for an elegant dinner. They are joined by Miss A.'s friends. Caryn serves the plates as Lauren finishes pouring the wine.
Lauren holds up a glass.
LAUREN
Well, here's to a fantastic new endeavor!
Miss A. enthusiastically lifts her glass.
MISS A.
To our best movie yet!
Caryn looks up from serving, unable to hide her surprise at the news, but no one seems to notice. Mr. R. lifts his glass to the others, forcing an almost believable smile.
MR. R.
Cheers!
The dinner guests sip the wine and take their forks to the roulades. Caryn refreshes water glasses.
MISS A.
I think it's going to be a long shoot. Too bad you won't be able to take your chef with you.
Mr. R. swirls some wine in his mouth, watching Caryn leave the room.
MR. R.
We'll see.
This entry was designed for the Paper Chef #5 using the following ingredients: goat cheese, sherry vinegar, prosciutto and green garlic. This sauce is nicely tart and would work well with a variety of roasted meats. Inspirations: a cider cream sauce in The Gourmet Cookbook and Emeril's skillet-to-oven technique.
Chicken Roulades with Sherry-Vinegar Cream Sauce
4 chicken breasts, 4 oz. each
4 oz. prosciutto
4 oz. herbed goat cheese (try Cypress Grove!)
16-20 large basil leaves
salt and pepper
2 TB. vegetable oil
1 TB. butter
Sauce
2 TB. butter
1 TB. green garlic, minced
1/2 cup sherry vinegar
1 1/2 cups chicken stock
1 cup heavy cream
1. For the sauce, melt butter in heavy saucepan over medium-low heat. Add garlic and cook until tender, about 2 minutes. Add sherry vinegar, bring to a boil and boil until reduced by half, 5-7 minutes. Add chicken broth and boil until mixture is reduced by half, about 12-15 minutes. Add cream and boil until thickened slightly, about 10 minutes. Set aside to thicken.
2. Preheat oven to 325 degrees.
3. Place chicken breasts between two sheets of plastic wrap and pound to a 1/4″ thickness. Turn breast to smooth side down. Season top with salt and pepper. Cover breasts with a single layer of prosciutto. Crumble goat cheese evenly over prosciutto. Top with a single layer of basil leaves. Tightly roll up chicken breasts to pointed edge. Secure with toothpicks.
4. Heat oil and butter in large, ovenproof skillet. Add chicken and lightly brown on all sides, 3 minutes total. Place skillet in oven until cooked through, 15 minutes.
5. Remove chicken from oven and remove toothpicks. Let stand 5 minutes. Slice into 4 equal slices. Serve slices on top of sauce on individual plates.
Serves 4.