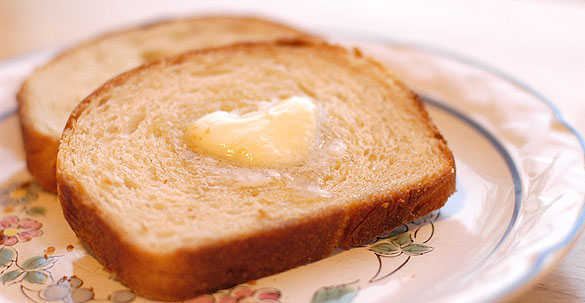 INT. MR. R.'S MANSION–KITCHEN–LATE, LATE NIGHT
The back door swings open and Mr. R. stumbles through dragging enough luggage for an entire family. Hank follows with an equal count of bags. They deposit their loads just inside the door and stretch their aching arms.
MR. R.
I just couldn't take another day in St. Barth's. I'm exhausted.
HANK
I'm starving.
Flora enters from the dining room, rubbing her eyes awake.
FLORA
You made it home safe. I wait for you.
HANK
Where's Caryn?
FLORA
She left. It's very late.
Flora straps a couple bags over her shoulder.
MR. R.
(inhaling deeply)

Is that bread I smell?
FLORA.
Yes, tomorrow's breakfast.
She drags a bag behind her out the door into the house. Hank and Mr. R. spot the warm loaf cooling on the stove at the same time.
HANK
Is it tomorrow yet?
INT. MR. R.'S MANSION–KITCHEN–LATER
The kitchen glows blue with the early morning light. Caryn comes in, wet hair pinned into a bun at her neck. She drops the newspaper on the counter next to a wooden cutting board scattered with crumbs. Her eyes narrow on the knife perched next to the tray of butter also speckled with crumbs.
CARYN
Welcome home, sir.
She tosses the cutting board and knife into the sink and opens the fridge with a knowing smirk. Hidden in the back is a loaf pan filled with soft white dough just barely rising in anticipation of an early breakfast. She spins the oven dial to 350.
Buttermilk Country Bread
The honey in this bread makes it surprisingly reminiscent of a wheat bread. Although I almost always bake the loaf in the oven, I confess that I prefer to make the dough in my bread machine, where I can just throw in all the ingredients and hit a button. The instructions below are for those who don't have a bread machine. Put the shaped loaf in the fridge overnight and finish the rising in the morning while the oven heats. Nothing like fresh bread for breakfast!
2-1/2 c. all-purpose flour
1-1/4 tsp. active dry yeast
2 TB. butter, softened
2 TB. honey
1 tsp. salt
1/4 tsp. baking soda
3/4 c. buttermilk, warm
1 TB. melted butter
1. In heavy-duty mixer, combine flour, yeast, butter, honey, salt and baking soda until mixed. With mixer running, pour in warm buttermilk. When dough begins to pull away from the sides, switch to dough hook. Knead on low speak until smooth, about 5 minutes. Let dough rest for 10 minutes and then knead for 1 minute longer.
2. Transfer the dough to a well-oiled bowl and turn once to coat. Cover and let rise in warm place until doubled in bulk, about 1 to 1-1/2 hours.
3. Lightly grease 8.5-by-4.5 loaf pan. Turn the dough onto a lightly floured board. Roll or pat into a rectangle about 1/2 inch in thickness. Beginning at narrow end, roll up the rectangle to form a loaf. Place the loaf, seam side down in the prepared pan. Cover and let rise until near top of pan, about 1 hour.
4. Preheat oven to 350 degrees. Brush top of loaf with melted butter. Bake until golden brown or the bottom sounds hollow when tapped, about 35 minutes.
5. Turn loaf onto rack and let cool completely before slicing.
Yield: 1 loaf