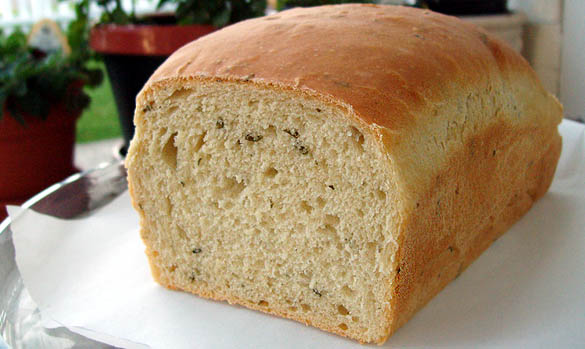 EXT. CARYN'S APARTMENT–FRONT PORCH–EARLY MORNING
The sun is just beginning to brighten the morning sky. Green herbs are spilling over the sides of little pots that line the porch. Caryn sits with her coffee and a pair of kitchen shears. She bunches together some oregano sprigs in her hand.
CARYN
If I don't clip you now, you'll take over the porch by the time I get back.
She snips the oregano and drops it in a little paper bag. Punky sits behind the screen door, meowing for his breakfast as Caryn moves on to the rosemary.
INT. MR. R.'S BEDROOM–AFTERNOON
The curtains are all pulled tight against each other, keeping out any hint of the sun. The trash can by his bed overflows with tissues and dvd's are scattered about the floor by the television.
Mr. R. is awake in bed. Caryn enters with a plate of just toasted bread, a butter pad sliding off the crust as it melts. She puts the toast on the nightstand and begins to straighten the room.
MR. R.
I can smell the herbs in it.
CARYN
That's a good sign.
Mr. R. pulls apart the toast and eats. Caryn shoves the tissues back in the trash can and picks it up to empty it.
MR. R.
I bet you never thought you'd be playing nursemaid at this job.
CARYN
No, I guess not. But I'm glad to see you're feeling better.
She opens the curtains just enough to let some light sneak in.
MR. R.
I am feeling better. In fact, I'll take more of this bread.
CARYN
Of course. Lauren will be so thrilled to hear that you're recovering.
She leaves with the trash can as Mr. R. growls and smushes the pillow up to his face.
Garden Herb Bread
This loaf is slightly dense and thus, holds up nicely to the rosemary. Substitute whatever fresh herbs are available to you. It's a great bread for sandwiches.
1 cup warm water
1 tsp. sugar
1-1/2 tsp. yeast
3 TB. olive oil
1 tsp. salt
2-3/4 cups bread flour, divided
1 TB. each: fresh oregano, parsley, rosemary (finely chopped)
1/4 tsp. black pepper
1. Dissolve yeast and sugar in water. Let stand until foamy, five minutes.
2. In heavy-duty, stand mixer, blend olive oil, salt and 1/2 cup of flour until a thick paste forms. Slowly add yeast mixture and 1 cup of flour. Mix until smooth. Add herbs and 1/2 cup of flour. Switch to dough hook and add remaining flour by spoonful until dough pulls away from sides. Knead until elastic, about 8 minutes. Resist the temptation to add more flour. The dough will be very sticky.
3. Scrape dough into a well-oiled bowl with a spatula. Turn to coat. Cover and let rise 1 hour or until doubled in bulk.
4. Turn dough onto lightly-floured surface. Let rest five minutes. Shape into a loaf and put into a lightly greased 9×5 loaf pan. Cover and let rise until dough nearly reaches top of pan, about 30 minutes.
5. Preheat oven to 350. Bake loaf until golden and the bottom sounds hollow when tapped, about 50 minutes. Remove loaf from pan and cool on wire rack.
Yield: 1 loaf.