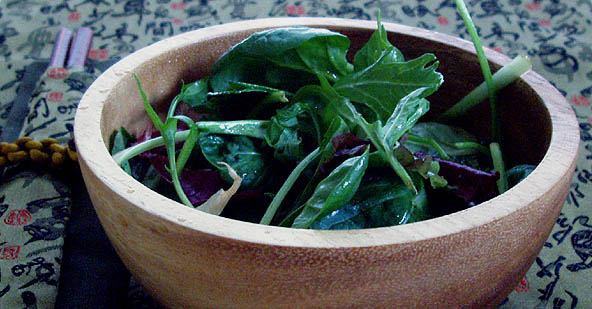 INT. MR. R'S MANSION–KITCHEN–DAY
Caryn and Flora are trimming and washing a bed of fresh, spring greens over the sink when the door swings open and MISS A., a stunningly beautiful actress in a white, flowing sundress, prances in.
MISS A.
Oh, fabulous! I'm famished.
Flora can't help staring.
CARYN
Um, can I help you?
MISS A.
He said I'd find you here. What are you making?
CARYN
He's here? He's back from–
She is cut off by the door swinging open again. Mr. R enters, visibly tired from his travel, but smiling warmly at Miss A. He nods to Caryn without taking his eyes off of Miss A.
MR. R.
Caryn, I see you've met my houseguest.
MISS A.
She was just helping me find lunch.
Caryn puts down the greens and wipes her hands dry.
CARYN
Would you like a salad?
MISS A.
Brilliant. Just some lettuce.
CARYN
Just greens?
MISS A.
Perhaps a light dressing. That's all.
Mr. R. gently puts his hand on Miss A.'s sleek, exposed back and leads her to the door.
MR. R.
She doesn't eat much.
They are almost through the door as Miss A. calls back.
MISS A.
Thank you!
Her giggle is muffled when the door swings closed again. Flora can't help giggling herself.
FLORA
Do you know who that is?
CARYN
Yes, Flora.
Caryn takes some bottles with Chinese writing out of the cabinet.
FLORA
My daughter has seen all her movies.
CARYN
I might have seen one on an airplane or something.
She drizzles a little from each bottle into a small bowl. Flora resumes cleaning the greens.
FLORA
So pretty.
Caryn whisks the vinaigrette with a vengeance.
CARYN
Too thin.
Asian Vinaigrette
2 Tablespoons peanut or olive oil
2 Tablespoons rice vinegar
1 teaspoon soy sauce
1/4 teaspoon sesame oil
1 teaspoon sugar (or to taste)
Whisk all ingredients together.
A small amount of sesame oil adds tremendous depth to this vinaigrette. It needs nothing more than an assortment of baby greens to accompany it.