Recipes:
Near Miss: Gingered Peach Cobbler!
June 08, 2005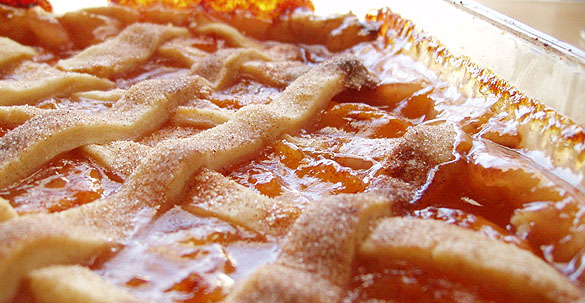 EXT. SOMEWHERE IN MISSISSIPPI--MOVIE SET--LATE AFTERNOON
The production is in full swing. The CREW hustles around, setting up the next shot. The Director chats with Mr. R. and Miss A. in the middle of the set. Caryn watches the action from a distance.
ANGLE ON a GRIP walking toward Caryn with a long, metal pole directed straight for the back of her head.
GRIP
Points!!
Caryn doesn't budge. The grip doesn't see her.
GRIP (CONT'D)
Points!!
The tip of the pole is inches from Caryn's skull when...
A STRONG HAND
...reaches out toward her. She is violently pulled to the side, nearly falling over.
The grip passes with the pole. He scowls at her as he yells again.
GRIP (CONT'D)
Points!!
Caryn is stunned to see the grip speaking to her. A man whispers to her in a familiar voice.
MR. R. (O.S.)
Points means to get out of his way.
She looks over to discover that her employer also seems to be playing the role of her hero.
CARYN
Oh gosh, sorry.
He smiles at her as a parent to a child.
MR. R.
Just try to act like you know what you're doing here. You're supposed to be my assistant, remember?
CARYN
Yes, sorry. I, um, just wanted to let you know that the cobbler is ready.
Mr. R. chuckles.
MR. R.
Thanks. I'll be done soon.
She stares at a spot on her tennis shoe.
CARYN
Okay. Sorry.
He laughs again. Caryn steals a glance around at the crew that has suddenly fallen silent. The whole set is now waiting for them, watching Mr. R. and Caryn intently. She squirms under the stares, but he doesn't seem to care.
MR. R.
What kind of cobbler is it?
Caryn catches Lauren's disapproving eye.
CARYN
Um, peach. Ginger peach.
MR. R.
Ah! From a Georgia girl, of course.
Mr. R. straightens his costume.
MR. R. (CONT'D)
Try to be more careful, Caryn.
He gently pats her shoulder and then saunters back to set. The Director immediately starts yelling instructions to his crew in anticipation of the shot. Lauren redirects her focus to the monitor before her.
And Caryn sneaks away, relieved to be out of the spotlight.
Gingered Peach Cobbler
It ain't the prettiest cobbler, but the ginger jazzes up this Southern classic. The pastry crust is thicker than a pie crust which makes it more suitable for a cobbler. Use ready-made pie dough in a pinch.
1 cup sugar
2 TB. cornstarch
10 ripe medium peaches, peeled and sliced
2 TB. lemon juice
1/4 cup chopped crystallized ginger
Pastry:
3 cups flour
3/4 tsp. salt
1/2 cup (1 stick) cold butter, cut into 1/2" pieces
1/2 cup shortening
1/2 cup ice water
1 egg white
1/2 tsp. cinnamon
2 TB. sugar
1. To make dough: Combine flour, salt and shortening in food processor until even. Add butter in pieces, pulsating until mixture resembles coarse crumbs. Slowly add just enough ice water for dough to stick together (not necessary to use the whole 1/2 cup). Knead dough a few times and divide into two portions, one slightly larger. Wrap in plastic wrap and flatten slightly. Refrigerate at least 30 minutes.
2. Preheat oven to 400 degrees. Lightly grease a 13x9-inch pan.
3. Mix sugar and cornstarch in a large bowl. Add peaches, lemon juice and ginger. Toss to coat and set aside for 15 minutes.
4. Roll out larger portion of dough to a 15x12-inch rectangle, no thicker than 1/4" inch. Place dough in prepared pan, wrapping dough up the sides of the pan. Pour peach mixture on top of dough. Trim dough just above peaches.
5. Roll out remaining dough into a rectangle about 1/4" thick. Cut into 1/4"-1/2" strips and arrange in a lattice pattern over peaches (diagonally is easiest). Squeeze edges of strips with bottom dough to seal. Mix cinnamon and sugar together. Brush strips with egg white and sprinkle with cinnamon mixture.
6. Bake about 45 minutes until bubbly and crust is golden. Serve warm.
Serves 8-12.
Posted by Caryn at 08:48 PM | Comments (5) | TrackBack
Chocolate Cream Pie!
April 22, 2005
INT. MR. R.'S MANSION--KITCHEN--LATE AFTERNOON
Caryn stirs hunks of dark chocolate in the bowl of a double boiler. A rich, creamy custard waits patiently for its lavish counterpart to melt. A prepared crust anticipates the wedding from the counter.
Miss A.'s strappy, high heels tip-tap on the tile as she enters in a silky dress held on her body only by two capellini straps. Her eyes glance toward the pie crust as she takes a compact out of her purse. She dabs her perfect skin with the light powder.
MISS A.
We're going out after the premiere. I guess no one told you.
Caryn is mesmerized by the melting chocolate.
CARYN
That's okay. This won't be done for hours--
Mr. R. strolls in wearing a purposely faded t-shirt and dark denim jeans. Miss A. stiffens at his appearance.
MISS A.
What are you wearing? We're going to be late.
Mr. R. watches Caryn fold the smooth chocolate into the custard.
MR. R.
I really don't feel very social today. I'm not going.
MISS A
What? We have reservations at Ago's!. You love their lobster risotto.
Mr. R.
I especially don't feel like the scene at Ago's.
Miss A. snaps the compact shut.
MISS A.
Don't be ridiculous. The car is waiting.
Mr. R. leans against the counter, not about to budge.
MISS A. (CONT'D)
Fine. Do what you want.
Miss A. shoves the compact in her purse and storms out. Mr. R. chuckles to himself.
MR. R.
Nothing special for dinner, Caryn. Something light.
Caryn nods and smiles to herself. Mr. R. heads out the door only to turn back around.
MR. R. (CONT'D)
Oh, and a piece of that pie.
Chocolate Cream Pie
This dressed-up pie certainly won't invoke memories of the one you had at a roadside diner during the family vacation to Florida. Use Valrhona's Manjari Chocolate (64%) and you could serve it to the most discerning of critics, only to be met with overwhelming success.

Posted by Caryn at 04:30 PM | Comments (5) | TrackBack