Recipes:
High Drama: Eggplant Parmesan!
August 20, 2005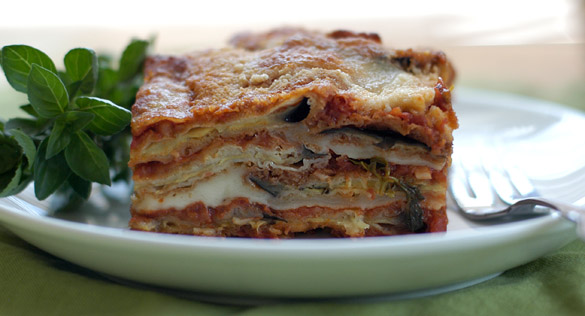 INT. TRAILER--SOMEWHERE IN OHIO--DAY
A now refreshed Caryn stirs a bright red tomato sauce simmering on the small stove in the kitchen. She tears leaves of basil into the sauce when the trailer door swings open.
Miss A stomps in with a tattered Confederate uniform sagging off her small frame and a fake rifle swinging at her back. She is surprised to see Caryn, but is less than cordial.
MISS A.
Oh, you're back already? Where is he?
Caryn shrugs her shoulders.
MISS A. (CONT'D)
Well, he's not on set, so he can't be far. Tell him I'm looking for him.
She leaves the door open as she traipses back out. Caryn tastes the sauce and adds more basil.
INT. TRAILER--LATER
A fully costumed Mr. R. scrambles in and swiftly closes the door behind him. Caryn is salting thick slices of deep purple eggplant piled in a collander.
MR. R.
What's that? Eggplant?
CARYN
Yes. From a local farm.
MR. R.
Great. I'm going to go read in my room. If anyone comes by, tell them I'm out.
He slips into the small bedroom portion of the trailer and slides the door closed. Caryn takes some mozzarella from the fridge.
INT. TRAILER--LATER
The breaded eggplant slices sizzle in hot oil as they fry to a golden brown. Caryn must leave them unattended to answer the pounding on the door.
An indignant Lauren is standing on the other side.
LAUREN
When did you get back? Where is he?
CARYN
I don't know, but I'm really busy here.
Lauren beams her gaze through Caryn to scan the trailer before she backs up.
LAUREN
Tell him I'm looking for him.
INT. TRAILER--LATER
The kitchenette is now clean from the debris of the simmering, salting and frying. Caryn removes a hot casserole dish from the oven, thick tomato sauce bubbling from underneath a layer of crisped mozzarella and parmesan.
The bedroom door slides open again and a sleepy-eyed Mr. R. emerges.
MR. R.
I assume you had to field a couple hotheads, eh?
CARYN
Yeah. Clearly I missed some stuff while I was away.
MR. R.
You didn't miss anything. I have to get back to set.
He spots the steaming dish of Caryn's labors.
MR. R. (CONT'D)
Bring me some of that?
Caryn nods as he returns to the set. She digs into the eggplant and scoops some onto a plate. The door violently opens again.
MISS A.
Where the heck is he?!
CARYN
You just missed him. He went back to set.
Miss A. lets out an ugly grunt and storms back out. Caryn follows with the plate of eggplant parmesan, eager to watch the show.
Eggplant Parmesan
I love Gourmet's Eggplant Parmesan recipe, but I substitute two large cans of peeled roma tomatoes for the fresh tomatoes, which helps to reduce some of the labor. I also sometimes use whole milk mozzarella instead of fresh mozzarella.
A very hearty, vegetarian dish, it tastes even better the next day. After it has been refrigerated, it easily cuts into the nice, neat squares pictured.
Posted by Caryn at 04:13 PM | Comments (8) | TrackBack