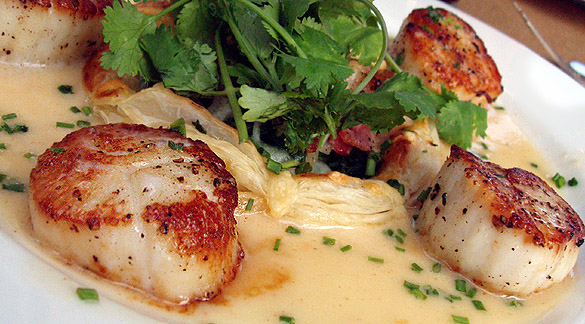 INT. TRAILER–SOMEWHERE IN UTAH–DAY
Caryn is rolling, rolling and folding a puff pastry dough. But it's not quite working as well as she'd hoped.
Mr. R. paces the trailer, mumbling lines to himself as he rehearses from his script. There is an icy chill in the room and it's not from the snow-capped mountains outside the window. He speaks to Caryn without a pause in his recitation.
MR. R.
Is that for dinner tonight?
Caryn shoves the rolling pin aside.
CARYN
I guess. If it turns out.
She attempts to mold the dough with her hands.
MR. R.
Do you have plans again tonight?
CARYN
Um, yes. Well, if it's okay, I'd like to drive into Park City and maybe grab dinner there.
Mr. R. stops pacing.
MR. R.
Park City?
CARYN
If it's okay with you, of course.
MR. R.
It's fine.
He begins the pacing and mumbling again. Caryn stares at the dough, unsure how to proceed.
MR. R. (CONT'D)
Maybe I'll come with you.
She looks up at the suggestion, but her approval is irrelevant to him. She returns to staring at the dough. After a second, she wads up the whole buttery mess and dumps it in the trash can.
EXT. RIVERHORSE CAFE–PARK CITY, UTAH–EVENING
The perfect evening to sit on the open balcony above Main Street. Caryn is finishing a summery salad garnished with roasted peaches and goat cheese, but she is eyeing the last bites of Mr. R.'s shrimp wrapped in jack cheese and bacon, drizzled with a chipotle cream sauce.
The other diners seem to be happier than the awkward pair of chef and employer.
MR. R.
This shrimp is outstanding.
CARYN
(shrugging)
Yeah.
The plates are promptly cleared. The table is reset for the main course. Mr. R. picks up the book he brought with him. Caryn watches the table next to her talk to the restaurant's chef.
She is rescued from her solitude by the arrival of the entrees. On Caryn's plate, the freshest scallops available swim through a lemon-cilantro butter sauce. She picks up her fork and pokes at the potato pastry in the center, sorting through the delicate layers of flaky dough.
Mr. R. puts the book down to start on his stunning lobster tail curved beside a bank of pasta with sundried tomatoes, mushrooms and basil. Caryn slices through a scallop and tastes it skeptically.
CARYN
Oh. Wow.
Mr. R. hides a smile behind his fork. Without asking, he reaches over and grabs a scallop from Caryn's plate. Her mouth drops, but he quietly trades the scallop for a slice of the tender lobster.
And she can't help but give in to the terms of the deal…
Riverhorse Cafe
It has been many years since my first visit to Riverhorse and I was so pleasantly surprised to find that the service and food is still outstanding. A wonderful meal.
510 Main Street
Park City, UT 84060
(435) 649-3536 ph.
Summer hours vary but aim for a sunset.