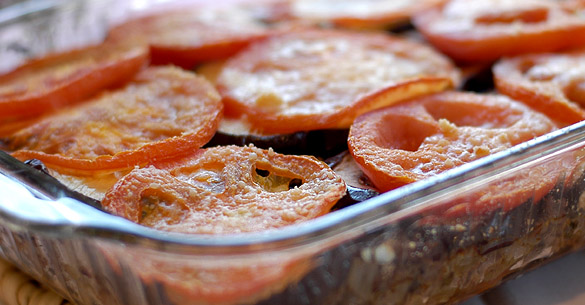 INT. MR. R.'S MANSION–KITCHEN–AFTERNOON
Caryn slices through eggplant as a skillet sizzles nearby. The swinging door creaks open and Mr. R.'s head pokes through.
MR. R.
Going to the gym. Be back in a couple hours.
She nods and stirs the browning meat in the skillet.
MR. R. (CONT'D)
Is that lamb? Looks good.
He withdraws his head from the kitchen. Caryn chops fresh mint.
The door swings open again and she rolls her eyes.
CARYN
Change your mind already?
MAN'S VOICE (O.S.)
What?
Caryn looks up to identify the unfamiliar voice. She immediately straightens her hair at the vision of Abercrombie & Fitch standing before her. The SANDY-HAIRED MAN extends his hand.
MAN
Hi, I'm Hank. You must be Caryn.
She nods and shyly shakes his hand. The meat hisses from the stove.
CARYN (CONT'D)
Are you, um, a friend of–
HANK
Yeah, we're buddies from high school. Just visiting for a while.
Caryn pulls her gaze away from his bright blue eyes and turns her attention to the skillet.
CARYN
He could use a friend around here.
Hank leans casually against the counter.
HANK
I hear you're a great cook.
He peeks over her shoulder to see what she's stirring.
HANK (CONT'D)
Is that lamb? Since when does he eat lamb?
Caryn turns her head at the accusation and they are nose to nose.
CARYN
He's eaten it before.
They both look back down at the meat.
HANK
Huh. Interesting.
After a beat, he smiles at her with a sugary grin.
HANK (CONT'D)
I, however, love lamb.
Lamb & Eggplant Casserole with Lemon Yogurt Sauce
I adapted this dish from a recipe published in the November 2004 Woman's Day. It's a pretty lean dish if you're looking for a satisfying, but healthier meal between the Holiday festivities.
3 eggplants, about 1 lb. each, cut into 1/2 inch slices
2 TB. olive oil, divided
1 lb. lean ground lamb
2 cups chopped onion
3 large garlic cloves, minced
1 TB. cumin
1 tsp. cinnamon
1 cup finely chopped fresh mint leaves, loosely packed
salt & pepper
1-1/2 pounds tomatoes, thinly sliced
1/2 cup grated Parmesan cheese
SAUCE:
1 cup plain lowfat yogurt
1 TB. finely grated lemon zest
juice from one medium lemon
salt & pepper
1. Sprinkle 1 TB. salt over eggplant slices and set in colander over bowl to drain. Preheat oven to 450 degrees. After 30 minutes, dry eggplant with paper towels and place slices on cookie sheet. Brush both sides of slices with olive oil. Bake until eggplant is tender and slightly brown, about 30 minutes.
2. Meanwhile, saute onion and garlic in 1 TB. olive oil until tender. Add lamb and saute until meat is no longer pink. Remove from heat and stir in cumin, cinnamon, mint and salt and pepper to taste.
3. Reduce oven to 375 degrees. Line baking sheet with half the eggplant and then half the tomatoes. Sprinkle with 1/4 cup of parmesan cheese. Top with meat mixture, then layer with remaining eggplant, tomatoes and cheese.
4. Bake uncovered until hot, about 30 minutes.
5. To make sauce, mix ingredients together until smooth. Serve with casserole.
Serves 6.