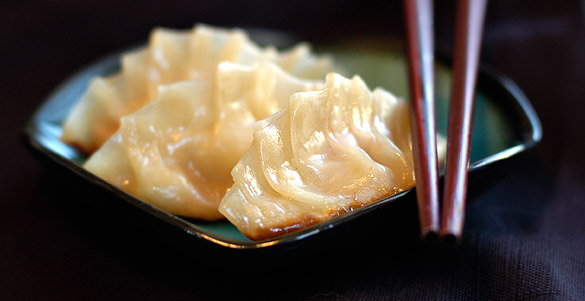 INT. CARYN'S APARTMENT–EVENING
Caryn and Winnie sit on pillows on the floor around the coffee table. Armed with a fancy set of chopsticks, each girl is devouring her own plate of tender dumplings stuffed as full as they can get.
CARYN
I never understand why people take the time to make perfect pleats on these things. Who looks at the pleats?
WINNIE
No time to examine them on the way to my mouth.
Caryn dips the last dumpling in the dark sauce and finishes it off. Winnie sets down her chopsticks.
WINNIE (CONT'D)
Still no sign of him?
CARYN
No. I'm getting bored. Maybe it's time to look for another job.
Winnie laughs.
WINNIE
There's no pleasing you, is there? Either you're overworked and wanting to quit, or you're bored…and wanting to quit. I can't keep up.
Caryn starts to clear the table.
CARYN
All I know is that celebrities are weird. Who can keep up with them?
She plops her hands on her hips.
CARYN (CONT'D)
Maybe I'll go to law school and become a lawyer like you. That seems interesting.
Winnie snickers at the thought.
WINNIE
Enough shop talk.
She gets up and follows Caryn into the kitchen.
WINNIE (CONT'D)
Got any mochi?
Gyoza (Pot Stickers)
This is a fairly traditional recipe for gyoza. You can substitute half the pork with an equal amount of minced, raw shrimp. Or chicken. Or use all vegetables. The mix is easy. The folding and pleating is the labor-intensive part.
5 oz. Napa cabbage, finely shredded
1/2 tsp. salt
1/2 lb. ground pork
2 cloves garlic, minced
2 tsp. fresh ginger, minced
2 green onions, green and white parts, chopped
2 tsp. cornstarch
1 TB. soy sauce
2 tsp. rice wine
1 TB. sesame oil
40 round gyoza skins
4 TB. vegetable oil, divided
1 cup chicken stock, divided
Dipping sauce:
1/4 cup soy sauce
1/4 cup rice vinegar
splash of sesame oil
1. Salt cabbage in a collander over a large bowl. Toss to combine. Set aside for 20 minutes.
2. Combine pork through sesame oil with hands in a large bowl. Squeeze excess water from cabbage. Add cabbage to pork mixture and stir until well-combined.
3. Place a rounded teaspoon of pork mixture in the center of the gyoza skin. Wet the edges of the skin with water on your fingertip. Fold in half to form a semi-circle. Make pleats along the edges, squeezing tight to seal and tapping the bottom on the work surface to flatten. Set aside and repeat with remaining skins.
4. Heat 1 TB. of oil in wok or large, non-stick skillet over medium-high heat. Place about ten gyozas in wok and pan fry until bottoms are golden brown, about 2 minutes.
5. Pour 1/4 cup stock into wok and cover with lid to steam gyozas until cooked through, about 4 minutes. Remove from wok and set aside.
6. Heat another TB. of oil in wok. Repeat process with another ten dumplings until all are cooked. Serve hot with dipping sauce.