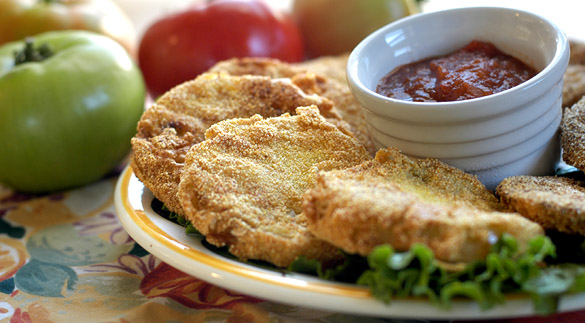 INT. TRAILER–DAY
The air conditioner of the trailer is going full blast, but it doesn't stand a chance against the hot oil that sputters in front of Caryn as she chats on her cell phone and pokes around in the oil with a pair of tongs. She flips over a battered slice of green tomato to reveal a blonde, crispy underside.
CARYN
Mm. These are perfect. They remind me of home.
INT. WINNIE'S APARTMENT–SAME
Winnie cradles the phone on her shoulder as she paints her toenails a blazing red.
WINNIE
Yeah, I'll have to pick up some of my own at the Farmer's Market today.
She shoots a look outside where the heat is rising off the pavement in daunting waves.
WINNIE (CONT'D)
It's so hot out there, you could fry 'em on my front porch. And speaking of home, when are you coming back?
INT. TRAILER
Caryn drains the tomatoes on some paper towels and starts another batch.
CARYN
I wish I knew. They really don't tell me anything.
The door of the trailer swings open and Amelia clambers in.
AMELIA
Caryn, you really should come to set. Your boss has been in a feverish fight with his co-star all morning. It's quite a scene.
CARYN
(in her cell phone)
I gotta go.
She flips the phone closed, turns off the stove and hotfoots it out the door with Amy.
EXT. MOVIE SET
Caryn and Amelia arrive just in time to see Mr. R. scamper onto the set, just ahead of an inflamed Miss A. It seems that more crew than usual are swarming around the fiery display.
DIRECTOR
Action!
Miss A. immediately transforms her searing look into a dazzling smile, but Mr. R. refuses to look at her as the scene plays out. Caryn and Amy draw blistering looks from the sound crew as they whisper to each other during the shot.
CARYN
What happened?
AMY
No idea. They've been at it all morning.
Mr. R. smashes a glass on a painting behind him just as the director yells…
DIRECTOR
Cut!
Miss A. takes a fervent step towards Mr. R., but the director interrupts.
DIRECTOR (CONT'D)
Perfect! And that, my friends, is a wrap for our gentleman star!
Mr. R. looks up in shock. He had no idea that was his last shot.
DIRECTOR (CONT'D)
Let's thank him for a truly radiant performance.
The cast and crew erupt in applause as Mr. R. steps off the set. Miss A.'s surprise is only slightly greater than Mr. R.'s but she wastes no time in chasing him after him.
Without looking back, Mr. R. quickens his pace. He grabs Caryn by the arm and yanks her with him.
MR. R.
Pack quick. Let's get out of here.
Caryn and Mr. R. bolt from the hot pursuit of the raging actress.
CARYN
Don't you want to eat first? I made–
MR. R.
Make it to go. We gotta burn some rubber, baby!
Caryn gasps to keep up with him. She doesn't care, though. She's going home.
I planned, fried and photographed these tomatoes for IMBB #18 before I saw that Nic from Bakingsheet had the same idea. Her oven-fried green tomatoes look wonderfully luscious (and probably lighter!), so try whichever recipe suits your fancy. The important thing to remember here is that tart green tomatoes are only around for a short time of the year, so get frying!
Fried Green Tomatoes
4 medium green tomatoes
1 cup flour
3/4 cup cornmeal
3 eggs, lightly beaten
1 tsp. salt
1/4 tsp. fresh ground black pepper
vegetable oil, for frying
1. Slice tomatoes into thick slices (about 1/3″). Stir salt and pepper into flour. Line a baking sheet with wax paper. Place flour, eggs and cornmeal in three separate, shallow bowls.
2. Working 1 slice at a time, dredge in flour, dip in eggs and dredge in cornmeal. To avoid fingerprints in the coating, hold tomato slice around the edges. Place on baking sheet and repeat with remainging slices.
3. Heat about 1/2″ of oil in large, heavy skillet until hot enough for frying (350-375 degrees). Gently place one layer of slices in the oil (about 4-5 slices). Fry slices until golden brown, about 2 minutes per side. Drain on paper towels. Repeat with remaining slices. Serve hot with a sweet and spicy salsa.
Serves 4.