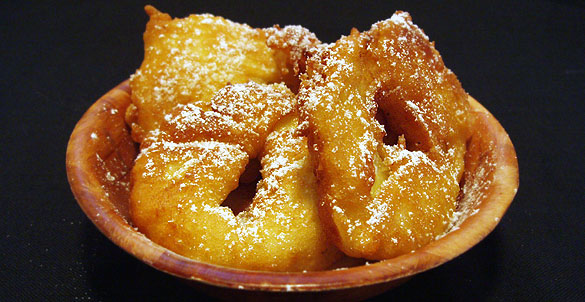 EXT. SOMEWHERE IN RURAL MISSISSIPPI–EARLY MORNING
Giant tents can be seen from quite a distance on the flat, Southern landscape. Dozens of WORKERS unload heavy, shiny lights from their big-rig trucks. Other FOLKS mill about a couple of steamy, catering trucks, discussing the day's workload over their cups of coffee and donuts.
Row after row of trailers are lined up, indistinguishable from one another as PEOPLE pass in and out with clipboards and headset walkies. One trailer, however, wafts with the smell of frying dough and apples…
INT. TRAILER
Caryn has already made the new kitchen her home. She stands comfortably over the small stove, dropping rings into oil bubbling madly in her cast iron skillet.
Mr. R. lounges on the couch, script in hand and a napkin tucked into his shirt collar.
MR. R.
I can't believe you brought an iron skillet all the way across the country.
CARYN
I would've shipped it, but I didn't know where we were going.
(she pauses)
I'm still not quite sure where we are.
MR. R.
Me neither. All I know is that there isn't a Starbucks in sight and Lauren has been on a latte-deprived rampage all week.
Caryn winces at the thought as she drains the rings. A timid knock sounds at the door before it is cracked open. The very young, shy SECOND SECOND ASSISTANT DIRECTOR peeks her head in.
2ND 2ND AD
Mr. R.? I think they're ready for you in make-up.
Mr. R. rolls the script up under his arm and walks over to the girl in the door. She is clearly enamored with the star.
Caryn piles some crisp, doughy apple rings onto a napkin.
CARYN
Wait. Take these with you!
MR. R.
Ah! Perfect. Beats the heck out of craft services.
The 2nd 2nd looks at Caryn in wonder, but is afraid to speak. The pair heads off down the row to find another trailer. A couple CREW MEMBERS wander by nonchalantly, but as Mr. R. passes, they can't help a quick glance back.
BATTER-FRIED APPLE RINGS
The tartness of a Granny Smith apple will cut through the cakey dough. The batter isn't sweet, so you might want to add sugar. Or use a sweeter apple, like a Golden Delicious.
1 cup flour
1 1/2 tsp. baking powder
1/2 tsp. salt
1 TB. shortening
1 egg
1/2 cup milk
4 medium apples, pared and cored
vegetable oil, for frying
confectioner's sugar
1. Combine flour, baking powder and salt. Cut in shortening with a fork or two knives until crumbly. Add egg and milk. Whisk until batter is smooth.
2. Heat 1/2″ of oil in large, heavy-duty skillet until hot enough to fry. Test by dropping a tiny dab of batter into oil. If too hot, batter will burn before apples are cooked, so adjust temperature accordingly while frying.
3. Cut apples into 1/4″ slices. Dip apples into batter until well coated. Drop into hot oil. Fry until golden and apples are cooked through, about 2 minutes each side.
4. Drain on paper towels. Sprinkle with sugar just before serving.
Yield: About 2 dozen rings.